Posted on
August 17th, 2006
by Marc Choyt
What keeps me awake at night running a small business in today's market place?: An elephant in a bikini.

I sell a lot to galleries and boutiques, as well as jewelry stores. The galleries and boutiques are hurting. A manufacturing representative who I have been working with for eight years — she is one of the best — is deciding to move out of her showroom to cut expenses because business is so down. My business to stores is down considerably. Yet jewelry stores are doing just fine with their high end.
When you look at the economy from the perspective of employment, inflation annual growth and even the stock market, you could get the impression that the US economy is solid and sound. Historically the main economic indicators , it would seem that at least from a historic point of view, life should be pretty good. Yet, we know it is not so.
Inflation apparently is less than three percent annually, on the street it does not feel that way. We can see reasons why money is tight for many people. The price of fuel ripples through our entire distribution cycle. Commodities in the trades have had massive increases.
This disconnect has bothered me for a long time. As I deal with my major price increases which I have had to pass on, I have been trying to understand what is going on.
When I was in university, I had a history professor who once said: "Statistics are like a bikini: what they reveal is interesting, but what they hide is blatant. Trying to know what exactly is going on is a little like the story of the blind men touching the elephant.
Speaking of elephants, what did the elephant say to the naked man?
Not bad, but can you breathe through it?
Anyway, recently I found the information I need to help understand once again how those on top of the economic pyramid use the rest of us.
According to a study by the economists, Ian Dew-Becker and Robert Gordan of Northwestern University sited in the current Atlantic Magazine, after World War II, for twenty years, median incomes increased as much as the highest incomes in the US. For those decades, when the economy was strong, it filtered down to all levels. The wealth of the economy as a whole created greater wealth in our communities.
Think about what it used to be like in our parent's generation. It was common for a middle class family to buy a home and send children to college on just one income. You could live well working as a clerk in an independent bookstore. Today, as we know, that is impossible.
I moved to Santa Fe in 1986 with a bicycle and a few hundred dollars in my pocket. Of course, I was wealthier than that. I had an excellent college education and training as a teacher. I was able to get a place to live and find a job that would support me in a reasonable manner. A few years later, with Helen, we bought the house we are living in today. I was teaching part time and Helen was learning to be a jeweler. Starter homes in Santa Fe were going for 60K to 80K in good neighborhoods.
Today, the wages for the jobs that I took in the eighties have basically remained the same. It would be impossible to get a start as a younger person in Santa Fe because prices for real estate and all living expenses have risen without a corresponding increase in wages. The same homes that were 70K are now $250K.
If the wages on the low end have not changed, yet there has been this kind of inflation in certain segments of our society, where is the wealth? What trend is behind this massive change that makes it nearly impossible for the middle class to get started on entry level wages which would have sufficed a few decades ago?
Over the past thirty-five years, wages rose in the middle income ranges just 11%. The wages of just ten percent of Americans saw their incomes increase as much as the economy did. The rise in wages of salaries at the top rose 617%. Between 1997 and 2001, the top one percent captured more gain than the bottom fifty percent.
Consequently, gains in productivity has not resulted in lower prices, increased distribution to investors or raises to employee salaries. It is given to the salaries of those at the top who control the media and public policy. Even the current political agenda has clearly been to distribute money from public money to the very wealthiest.
The leading economic indicators therefore can be seen as a form of disinformation, leading us to not believe what our experience on the street is actually telling us. Elephants in bikinis, everywhere, like locusts, invading the psyche of every American man who cannot sleep in those arsenic hours between one and three AM.
What does this mean for me, running a small business? Gold and silver have had increases of over fifty percent. I have had to raise prices for our pieces anywhere from 15% to 30%, depending upon the metal content. I have no idea how this is going to effect the economy of our company. I suppose that all domestic jewelry manufacturers have had the same pressure, simply because it is so expensive to run a shop in the US if you want to do it right.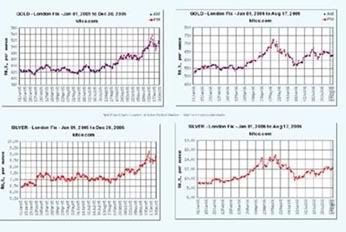 The general public does not pay a lot of attention to the devaluation of the dollar, which has been fueled by our deficit. Not only have precious metals sky rocketed, but the cost of importing has gone up because the dollar is so pathetically weak.
Alas, as the old Roman saying goes, "Hope is the last thing to die."