Posted on
May 24th, 2007
by Marc Choyt
"A circle-based business is rooted in relationships that are nurtured by fair and equitable exchange. Every person inside and outside of the business is viewed as equal in their humanity."
In 1995 my wife Helen and I started our jewelry business. That same year we purchased, with a few friends, pasture land with a creek and water rights in northern New Mexico. It is a place where the mountains and mesa meet the plains. Years of cattle grazing had made the pastures marginal and creek banks devoid of vegetation, yet the land was still beautiful.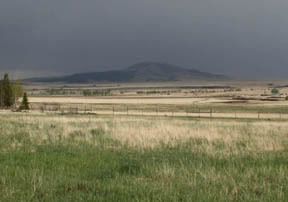 This shows our pasture land, looking south in May, 2007, before it greens up. (click on the image to expand it)
During our start up, which was in many ways the most stressful time of our lives, we loved to watch the hawks and elk, and the great storms rise on the horizon, tumbling toward us over the mountains.
Over time, we saw how the relationship to our business and the land around our creek, known as the riparian zone, were similar. In both cases, we knew very little about our environment, which supported our creek and our business. We were like children entering new cultures. We had only the beginnings of relationships with the land, neighbors, market, suppliers and a host of other complex relationships that enable one to thrive. Success in business and the restoration of the creek both depended upon interdependency with the greater ecosystem and that, we knew, had to be earned.
Yet despite the similarities, the creek and company were at somewhat opposite phases in their own life cycles. With our company, we were striving to develop relationships to suppliers, employees and customers which would start momentum, an upward spiral, toward growth. With the creek however, relationships forged over tens of thousands of years, were in a state of decline. Because the grasses and willow were eaten, the channel cuts deeper, creating further erosion; degrading the land and increasing solids in the water. The creek banks were cliffs, ten feet tall and devoid of life. Relationships were in what I call a downward spiral.
I was studying with Native wisdom keepers who taught me about circle-based business. Circles embody a pattern for relationships and spirals, upward and downward, defining movement over time among "all our relations." As a student of nature and business, I became passionately interested in studying the causes of upward and downward spirals. Ultimately, I wanted to know if we could create spirals which are life giving, healing the fragmentation between community, ecology and economy?
Any company, no matter what the structure, can be viewed as a collection of relationships creating a stream toward a goal. This dynamic intent, always in flux, exists within a structure - the banks. The nature of the flow depends upon its greater community, flora, fauna, employees and customers. Both ultimately rely upon the health of the greater ecosystem to create growth and life.
With our company, we had few relationships that we could depend upon for support. We started only with our intent and our product, which was untested in the marketplace. We tried to forge interconnection and dependency through sales and marketing. It was, in essence, the beginning of a process of earning our place through exchange; our product. Metaphorically, we were like a creek at its initial stages of development, just after the recession of glaciers when the land was barren of interdependent life.
Our own creek, however, had relationships forged over thousands of years, yet its flow created a downward spiral, negatively impacting the environment. Cattle, eating fauna which held the banks in place, had created a tipping point. Grasses and willow were gone. Water flowed too quickly, cutting the banks more and increasing particulate matter in the water, which made aquatic life more tenuous.
This creek, running too fast, is a perfect metaphor for many businesses which are disconnected from ecology and community. A business has a set of people who determine its creek's flow. It was not the creek's fault, but that of the cattle growers which viewed the creek only as a commodity to support in the short term, a cash-to-trash economy. The flow continued to degrade the land, pulling wealth in the form of soil on its way to its goal; the ocean. This mirrors many a company, whose sole aim being profit, becomes detached from the effect its activities have on a community.
We hated seeing those cattle on our property which had been allowed to graze there by the previous absentee owner. People in small Northern New Mexican villages do not generally take kindly to outsiders and we felt reluctant to act too quickly in a small village where people eke out such a marginal existence. Our neighbor continued with their cattle grazing on our banks, preventing any possibility of recovery. I thought about how to create a company based on relationships that would support our economy and create benefit for the larger community without degrading the ecology upon which all of us depend.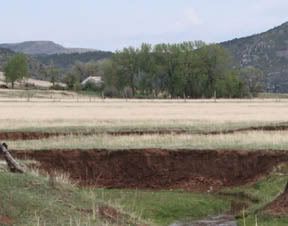 This photo shows our neighbor's creek, just beyond our fence line. This is what we started with, except worse.(click on the image to expand it)
Perhaps it was only because we had no business background whatsoever, could we have possibly even considered building a company on such a naive concept. The jewelry business is a commodity based business, cutthroat in its approach to resources, whether they be human or from the earth. It did not take long to see that our market place rewarded, at least in the short term, a company stream which is driven merely by profit on its way to an ocean of money.
Going To The Source
One day, looking for models of health, I followed our creek toward its source, the mountains. I found tall trees, willow and a wide range of interdependent biodiversity.
Grasses need the movement of ruminating animals, which provide waste products, thus increasing soil fertility. The fish are supported by the beaver, and the water tables benefit from having the water slowed. The sun, wind, clouds and rain provide a circulation of resources which support the whole.
In short, every part of the circle, each small arc, tested over thousands of years, is interconnected and critical to the whole. This allows water, the most powerful solvent on earth, to create an upward spiral toward life giving growth.
I want our company's stream to also generate wealth that nurtures a wide variety of relationships in our own circle-based economy, supporting a vibrant community. As I began to study how this might be possible, I noticed that both the creek and my company had multiple currents and different depths creating movement in every direction, depending upon the landscape.
At the time, the most palpable current was stress. My wife and I just about drowned under the severe financial pressure of a current; the introduction (or lack thereof) of our product to the market place. Relationships take time to evolve and we had little control. Our inability to do anything but survive pulled on resources, mainly our home, which we refinanced to fund the company, and gave nothing back.
Upward and downward spirals are occurring at the same time. To a large degree, the healthier and more resilient you are, the more choices you have. We were making sales, which brought in some money, an upward spiral. We were also making a lot of mistakes, throwing money away which limited our choices
In natural systems, too, growth creates decay. Compost nourishes future growth. In business, the decay is often in response to the market, or personnel or any number of factors. We compost our errors and try not to make the same mistake twice. The essential issue is whether our learning curve is be fast enough to survive our cash flow.
In our company, it was a time of disillusionment. I could see the ideal through the fog of my desires. The collective members of the company would produce a product or service that flows outward into the greater environment. Energy would then flow back into the company in the form of revenues and other forms of support. However, this was impossible.
The drive to survive and fulfill our ideals was for us, at times, contradictory. A baby shoot coming from the earth is vulnerable. Water flowing from a receding glacier might never become a creek. About eighty percent of new businesses fail in the first year.
We did trade shows with five thousand vendors. I suspected that eighty percent of the buying is from previous customers. We were not even taking in enough business to cover our hotels, never mind the booth fees at four thousand dollars a pop. We tumbled tens of thousands of dollars into debt. We did not have a stable circle in our company, so it was impossible to consider building a circle-based business.
It has always been clear, however, that a healthy riparian and a healthy business are ultimately linked though all our relations and that my task was to attend to both.
I am writing a book on circle-based business and I am interested in what in your life creates an upward spiral and a downward spiral? Part of the book is based on studies with the late Paula Underwood, an Iroquois wisdom keeper who I loved like a grandmother. She would always ask, "What may we learn from this?"
Surgery
By 1998, just when our business was developing a modicum of stability, we asked our neighbor to remove his cows and hired a bulldozer. In a day, instead of ten foot cliffs, we had gently sloping banks and a very muddy creek. Call it surgery. Over the next six days, with a group of friends, we planted thousands of willows and seeded the open earth. On the seventh day we rested, ate Helen's famous raspberry pies and drank a few beers.
We looked upon our work and wondered whether or not it would be fruitful. We were, in essence, trying to recreate an upward spiral by redefining the creek banks. Heavy rains can easily cause massive erosion on creek sidings which held no grass. On the other hand, a drought would make it unlikely that many of the trees we planted would live. Meanwhile, we began to build fences around the creek with the hope of eventually being able to create a pasture grazing system which would allow our neighbors to continue to use our land, but this time in a more sustainable manner.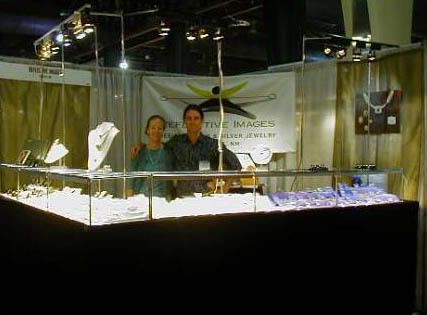 Helen and I at the Buyer's Market about eight years ago

.
Nearly ten years later, our riparian area is the most beautiful stretch in our valley; teaming with biodiversity–beaver, ducks, trout, and a multitude of fauna. I call it Genesis.
With our business, we struggled to form a foundation by attempting, as best as we could, to build strong interdependent relationships. This started with our employees who created the stream from which all else flowed.
A study cited in the Harvard Business Review stated that increased commitment from employees who love their job can lead to a 57% increase in an employee's discretionary effort, a 20% increase in individual productivity and an 87% reduction in the desire to leave. The greatest indicator of business success is repeat business which comes from customer satisfaction. The greatest indicator of customer satisfaction is how much your employee enjoys his or her job. Only a few people have quit our company over the past eleven years.
We also developed relationships with suppliers based on paying on time. We went as green as we possibly could. And we produced jewelry with integrity: they came with a life time guarantee.
We had struggles. There were times that I thought the whole thing might collapse and we'd end up losing our house which financed our business. Yet, from this foundation, we had ten years of double digit growth, which lasted until 2005.
Now, however, we are in a downward spiral. Sales are down considerably. I am left with attempting to assess how we are not in alignment with our environment.
Upward and downward spirals can exist simultaneously. The issue then becomes what is the nature of this growth and decay? As I am the one with the ear to the ground, most responsible for the strategic direction of our company, I have to figure out what is going on.
If there is a problem with growth or decay, it has to be traced back to relationships that are somehow not being nourished properly.
This is a high stake endeavor that I take quite personally. There are nine families dependent on the incomes my company provides.
All Our Relations
Now, I go back to what I learned from my Native American teachers. Certainly, upward or downward spirals must interface with the first part of my definition of a circle-based business: a circle-based business is rooted in relationships. They have taught me not to qualify what type of relationship because everything on the earth is interconnected. So relationship means, all our relations; animate, inanimate; it does not matter. Our lives depend upon exchange within this net which exists in complex interdependency within the Whole– or, as it has been described to me: The Movement of All Things.
To survive, we need to have direction and goals for certain, but many of the failures in business are because these goals do not even come close to understanding the dynamics of what takes place, even in a small company.
In the riparian of our land, there are hundreds of thousands of plants, from the blades of grass to the cottonwood trees. These are supported by billions of micro organisms which reside in the soil. The complexity of relationships boggles the mind.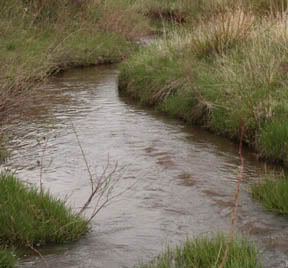 This is our current state, May 2007. It is still too early in spring for everything to green up. The land is at 7200 feet and would be considered a Zone 4

.

(click on the image to expand it)



I employ ten people. There are one hundred and twenty-one possible relationships, eleven times eleven, in my organization (this includes the most important one, the relationship one has with oneself.) I could even say twelve times twelve, because my dog comes to work with me.
For a long time, we employed two people who had conflict with each other. It was early on, and both were critical to the company. I tried mediation which created a de'tente. This one relationship, out of over a hundred, was a constant hindrance, a drag to the flow of our company's circular movement, bleeding out in unexpected ways that I am still learning about even a year after one of these two left.
At the current time, however, we have a fantastic team of people who for the most part get along quite well. Our product is highly developed and tested. Consider a circle as a business model: everyone holds part of the arc and energy flows around the edges to create movement, a flow and exchange from within and without. I do not at this time feel that our problem is with our people or with our product.
Now add to this dynamic of one hundred and twenty one relationships, each with its own upward and downward spiral, the relationships to customers and suppliers. Some of these relationships are distant; a jeweler receives her piece back for a repair, connecting him or her to a customer. The piece breaks again and then a third time. Now, our sales team is involved and unhappy, both with production and with having to deal with an upset customer. We reassess the item, involving more people. Already, this one piece of jewelry has impacted the entire organization, even if the fault is actually because of defective workmanship from a supplier!
We have relationships with thousands of people outside our company. These types of webs are constantly happening on every level, connecting us. Each involves a decision that will create an upward or downward movement. It is not always dramatic or product driven–someone can come in with a toxic mood. All this takes place in a market which is constantly in flux.
Even when you have smart people who try their best to make good decisions, there are so many variables it is impossible to ever really know completely what is going on. If we want to create an upward spiral, we must take into account internal dynamics as well as the larger environment; the market place.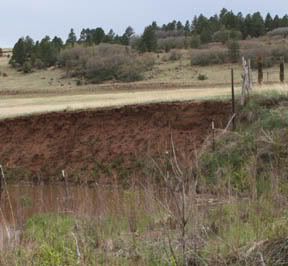 This shows where our land ends and our neighbor's begins.
(click on the image to expand it)
I also have to consider the foundation for all business and life. Though almost all precious metal I purchase is from recycled sources, my business depends upon mining, which has a terrible impact on the environment. Though there are regulations that have mitigated impact, mining still creates a downward spiral for the environment which is exposed to concentrated heavy metals. Also, I import precious metal components and gemstones from developing countries that may not have strict environmental concerns. I would not want a gold mine in my back yard. Yet the result of the mining creates revenues for our company which supports the economy of my community.
It is hard to sort through all these factors. Bringing circle into business requires a strong sense of not only the bird's-eye-view of the situation, but also how the energy flows and what its effects are. The question then becomes, what is being supported and what is being destroyed, or more existentially, what is the debt of our existence? Every decision resulting in an action has a consequence. One relies on a gut feeling for the best assessment that one can have. From this, I do my best to apply analytical knowledge.
I can review key performance indicators and adapt accordingly. I can contemplate case studies and speak with people who have lived through what I am experiencing. These are all important ways to keep on track as I set new goals. But I have to be careful to distinguish symptoms from causes. Further complicating my quandary is that my decisions, my lack of awareness, led to our current downward spiral. It is hard to see the forest from the trees.
In essence, to find a solution, I need my entire capacity as a human being. The criteria, for a circle-based business, is that the river moves on the basis of fair and equitable exchange. Business that acts outside of fair and equitable exchange with the economy, ecology and community are not circle-based.
La Acequia De Las Piedras Colorades
In March, 2007, I needed a break from the numbers which were not that hopeful and I took a drive up north to our land in Ocate, where I am a member of La Acequia De Las Piedras Colorades, or the ditch at the foot of the Colorado mountains in the small village there.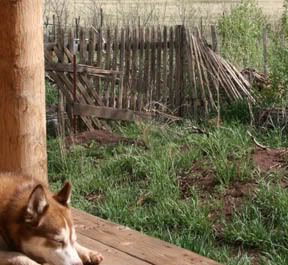 This is where I like to hang out and think about all my relations– on the porch with our rascal dog, Tasha, the Siberian Husky.(click on the image to expand it)
In 1824, the agricultural community in this village dug a ditch and created a diversion from one of the two streams that feeds the creek where we did our restoration project. The ditch flows about three hundred yards above the creek, following the contours of the valley. During wet years, it is used for flooding alfalfa fields.
Water is the issue in New Mexico. As the cliche' goes, 'it flows uphill towards money'. It is possible, for example, to sell water rights, which are critical for any type of development, from one district to another. This practice destroys the economic viability of agricultural villages.
I meet with the descendants of those who dug the ditch. We sit in a recently built public meeting house in a town with only a post office;  a town where raising cattle might bring you almost enough income to purchase a steak from the supermarket thirty-five miles away.
I hardly say anything at these meetings, except, perhaps, to second a motion with unanimous support. After ten years, I have grudgingly earned a little trust and respect from them.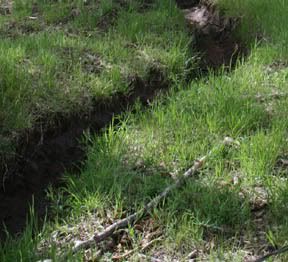 This is the Acequia (ditch) snaking through cottonwood trees. No water was in it at the time of the photo because my neighbor upstream was irrigating.(click on the image to expand it)
Years ago, the entire village came together to clean the whole ditch with food being provided by the women, of course. Nowadays, it is a struggle to bring enough people together to have a quorum in our legally recognized governing body. At the last meeting, one of my neighbors who I did not even know offered to clean the entire ditch for me because I was going to be out of town. The ditch itself, water, vida, creates and strengthens community.
If not for the three people on the board, we might end up losing our water rights to the state, which could sell them to Texas.
I think about the health of the community that supports my company. We had ten straight years of double digit growth in sales. Last year was our first decline, just five percent, off 2005.
Because trends were so strong up through October, I took too many chances with our marketing money and gambled on new approaches that did not yield what I had hoped. Now, I am faced with determining what is behind our downward spiral and how I can start to change the momentum.
Right now, when I assess my situation, I am feeling a bit pinched. We are holding back on equipment purchases that we usually make easily. The bank wants me to zero out my line of credit.
What factors have shifted, causing this downward trend? These questions are currently my razors edge. Certainly the on going war and rise in gas prices has hit the emotional mood of the middle class, and jewelry is purchased for emotional reasons. Consumer electronics have been a huge factor. People have cashed out their homes so there is little left in the trickle down. The middle class, my market, is hurting. High end jewelry, the luxury market, is up. This is part of a long trend, as I discuss here.
The ditch's water creates life for the environment and the people in the valley, but not to the direct detriment of the creek. There is fair and equitable exchange between people and the land that is dynamic, organic and evolving over time. With few exceptions, from up above, the river looks like a cut in the lands. Since the valley was clear cut, the community, like the creek, has been in an inevitable downward spiral.
I grew up thinking that the only thing west of the Mississippi was California. These are the fly by people; often disenfranchised and marginalized by the liberal elite who think land has only one use;  an imaginary mythical wilderness which is now gone.
I do not even eat beef. My idea of real meat is a freezer full of elk that I've shot and carried off a mountain on my back. I cannot help but feel that one of the potential solutions toward creating economic viability is right in front of them. They are raising organic, grass feed beef, but selling their cattle to regular feed lots for next to nothing. Yet people in Santa Fe are purchasing organic beef being trucked in from out of state, starting at $5.00 a pound for ground.
I talked to my neighbor about this but he was not interested in my idea. There are no slaughter houses nearby and ranchers are reluctant to change their ways.
I reflect about how much my understanding of this landscape has changed. Yes, they will probably again shoot the beaver that have moved into my riparian area;  the only one in the valley. They will definitely shoot my Siberian husky if she continues to jump the fence and chase their sheep. Yet these people, salt of the earth, small time cattle operators trying to eke out a living in what I consider one of the most beautiful places on earth, are some of the last hold outs against the great machine that used to be called "progress."
Resistance to change: such a human state of mind. What am I not seeing that is right in front of me?
In Practice
I return home to the source of my anxiety right now that keeps me tossing and turning in the arsenic hours between two and four in the morning: the downward spiral. What is the degraded environment causing marginality in my business growth?
Fortunately, unlike the folks in Ocate', our resource and production base is still strong. We have a great facility and a reputation among our customers that reaches out into the lives of people who wear our jewelry and love it. Over the last eighteen months we left the Quickbooks universe to implement a new inventory based accounting system which better allows us to track our expenditures.
Right now, our staff receive three weeks of paid vacation, sick leave, holiday pay and a six percent unmatched retirement contribution. Wages are fairly distributed;  the salary of the highest paid person is under two times the lowest paid person. We foster an environment in which everyone is respected for their point of view and their own humanity.
Even during our decline in overall sales, we won an award from our largest customer that named us, out of three hundred companies a 'superior supplier'. That's out of three hundred companies, and every single one of them at least twice our size.
Here's one reason why I feel we need circle-based business. My wife and I for the last seven years have left our company from three to six weeks every spring, which is our slow time, to travel abroad. With few exceptions over the years, the company has functioned perfectly while we are away. I come back with only a day of work on my desk. We employ awesomely dedicated people who are wonderful to work with. Given all we had accomplished, I naturally felt hubris.
One of the thoughts I had was to give raises to everyone who works for me as a way of "kick starting" better sales. One way to create wealth is through generosity. If you give away something, you will get something back. Indigenous cultures call this tradition "the giveway."
This idea was vetoed by our CFO, however, even though she would be a beneficiary. Everyone naturally wants more, but we are all getting what we need.
If I were only interested in money, the decision would be fairly straight forward. We could cut four people and focus on the profitable, money producing channels of distribution. Our sales would go down, but all of those who remained would probably make more money. If our company had outside investors, I might be forced to do this, but I am unwilling to consider this as an option. It has taken years to create our outstanding team and I would not easily let anyone go.
The problem is clearly in my department: marketing. I hold this question for weeks, paying attention to elements that just do not feel right, particularly as I approach the major jewelry trade shows.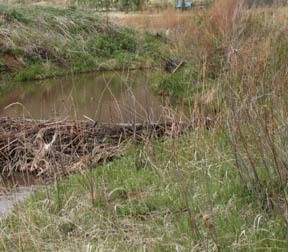 The beaver, with its dams that created flooding, was responsible for many of the fertile valleys in North America I am hoping that my neighbors will leave my beaver alone!(click on the image to expand it)
I trace that gut feeling and begin thinking about the similarities between my situation and that of my neighbors up in Ocate'. The trade markets, particularly the jewelry stores, which we have been targeting, view our product as strictly commodity. Jewelry might as well be cattle, or lumber for all they care. It is just something to sell and make money with. What upsets me most is that those who funded the blood diamonds in Africa, resulting in the death of 3.7 million people are still walking around in their suits and ties, doing business as usual with new 'ethical' rules.
Our company's environmental, humanitarian concerns do not have much value in this commodity based industry. Up until now, I have marketed our work toward the mainstream jewelry buyer while the ethos of our company has been anything but a mainstream jewelry manufacture.
I think back to my meeting with the ranchers — if only they could get their product to affluent organic consumers, that twenty percent of the US market who use their money to support their eco-values.
But wait — if only I could get my product to these people…
Conclusion
The solution for me is the same as the solution to the small ranchers in our valley: targeting the right market. We both need to hit the same demographic.
We have been purchasing recycled gold and silver for our production, using "green" paper and switching to non-toxic chemicals in our work environment. For components that we imported heavily, we work primarily with an international manufacturer that works on a Fair Trade basis. Most recently, we implemented a program with an environmental organization to off-set our carbon use. We just do these things because they are the way we do business, given our values. We did not even consider the marketplace.
Now that we have a firm idea of who we are, we must adjust our marketing to go after the customer who sees value in what we are doing. We must target this community: the same group of people who shop for organics, support environmental sustainability and fuel the growth of yoga studios throughout the land. These are the cultural creatives, whose values are in sync with our business ethics.
A few people in the jewelry industry are standing behind fair trade and socially responsible business practices. Industry leaders have called it a 'huge opportunity'. Though it barely exists to mainstream jewelry, I am willing to step into this wave. It is who we are already and that must be reflected in our marketing approach.
The lesson for me here is that a circle-based business has to have an alignment between resources, production and marketing. Our approach is to put our ethos into the center of our brand image to draw additional support from the community who see the value of what we are doing. This means a greater focus on expanding our direct relationship with customers, because I suspect that most jewelry stores, like the ranchers, do not want to change their ways.
Eighty years ago, Ocate' was a vibrant logging and farming community. Now, it is in one of the poorest counties in the US. Hanging out there has helped me to understand downward spirals. I could not see the forest for the trees. I didn't even notice our ethics because they were not market oriented. We did what we did because we love Mother Earth. But now that the market has provided an opening, we are well positioned to step into a new opportunity.
I write these words in the cabin on my land, realizing that I could be wrong in my assessment. Other factors, some completely unpredictable, might cause a further downward spiral, forcing me to take a different course.
Recently one of my neighbor's thousand pound bulls busted through our fence and got into our riparian. I went after it to chase it out. I had helped my neighbor brand, so I felt comfortable as I ran at him. Things were going just fine, until it charged me, horns down, veering off just a few feet before impact.
Happy to still be alive, I contemplate the metaphor of large forces coming out from nowhere that can upset everything. A recession? War with Iran? A terrorist attack in a household without duct tape? No, these things are too obvious. My experience of studying natural systems in the context of business practices taught me that life is far more nuanced and subtle than that. The important lesson here is that a stupid eastern transplant who knows nothing about cattle, should think twice before chasing after a thousand pounds of grass fed, organic hamburger on four hoofs, with sharp horns in a remote village in Northern New Mexico.
I am convinced that the end stage of business has to be to mimic nature, to rely upon natural systems as a model for exchange and sustainability. Circle has to be part of that equation in business, just like circle is central to natural systems. That is why circle-based business is inevitable and why I call it a "manifesto." We will find the circle by developing models that embody it, or we will degrade our natural systems so much that a recovery - surgery - might not be possible.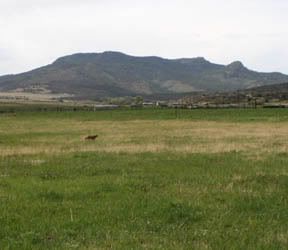 Taken in May, 2007, looking out from our pastures, west. Tasha on the prowl!(click on image to expand it)
Yet I also know that there is a long way to go on this journey just to find out what is possible. Business cannot merely be sustainable. It is too late for that baby step. We must find ways for business to help regenerate natural systems and our communities — some kind of antidote to the colonialism that nearly wiped out our indigenous peoples and their complex relationship to the land over the past several thousand years. Most business people have to see dollar signs first in this regenerative approach or it simply will not happen, unless we truly are in a new paradigm.
It is 7am here at my cabin in Ocate'. I go outside to our dry ditch, walk along the trench, step through my neighbor's gate to where he has diverted the water. I lift some heavy sand bags and place them over the earth, blocking the flow into his fields. I cross the fence and walk back to my place. I wait for the water and as it starts to flow, I place a piece of plywood in front of a culvert. The water gathers, soon overflowing, it banks onto my fields. I feel my heart, breathe the air deeply and look down the valley at the mountains and low clouds. Sixty elk linger at the edge of the mesa. It is beautiful.
References
I was helped with seed ideas for this writing from:
Paul Krafel's home produced movie, The Upward Spiral: check out this clip on Youtube: http://www.youtube.com/watch?v=-frWkYg2-Ew
Marc Choyt is President of Reflective Images, www.celticjewelry.com, an award winning designer jewelry company that exemplifies fair trade, ecological, socially responsible business. Marc authors www.fairjewelry.org a movement website for consumers and jewelers supporting green, fair trade, socially responsible business practices in the jewelry industry. He also originated The Circle Manifesto, www.circlemanifesto.com, a business model based on indigenous wisdom traditions.