The Circle Manifesto is the title of a manuscript in process that addresses the struggle of implementing a deep understanding of 'Circle Wisdom' as our business practice. As one of the co-owners of Reflective Images, www.celticjewelry.com, I hope this blog will serve as a nexus for those who are interested in reconnecting the broken circles that have been fragmented or destroyed by an economy which views humanity and ecology as only commodity. Adam Smith's Invisible Hand is a type of fundamentalism that is driving us all over a cliff.
A symptom of these broken circles is the deep seated polarities that exist in our lives. My approach is based on formal studies with Native American teachers and other Wisdom Keepers from several traditions since the late eighties, and a long time passion for a deep archetypal perspective (what story are you in?)
Thoughts about the economy, business and entrepreneurship that turn a peaceful night into restless, arsenic hours.
Issues regarding the jewelry industry, starting with Fair Trade issues, and other articles.
The latest news from my company, Reflective Images.
…
I believe that there are deeper, humanistic values involved that are critical to consider, given the breakdown in so many segments of our society. It is really about power.
Power has many definitions, but I'll define two types as a baseline, starting with manifest power, which I define as ones capacity to allocate resources; specifically, time and money. This power is transient and requires the support of many factors that may well be out of ones control. Typically, corporations wield this power to drive profit to the share holders. The result is that people and resources are treated as commodity; by law.
Corporations work on a line and pyramidal structure. This structure has its own story to enforce its own archetypal patterns. These have become so ingrained in our culture that they are neither questioned nor examined. Adam Smith's invisible hand is the general ethos, and at times a hidden fundamentalism behind our consumer society, which results in greater polarization.
When someone has tremendous manifest power they may see themselves as invincible, but ultimately one drags ones actions behind them like a ball and chain. Nothing done against Life is without consequence. Any student of life knows that the law of Karma is pretty irrefutable.
The second type of power is ultimate power. Power in this realm is determined by how deeply one can be connected to supporting and sustaining all that lives. This power is hard won and earned through making choices. The more you are grounded in this power, the more you have The Grail. You have found your way home.
This power is constantly tested. It is one thing to step up on the high wire but it is an entirely different thing to stay there. When one has this power, one can endure incredibly difficult circumstances with few resources and still have happiness. Some signs of having this power are creativity, deep seated joy, love of beauty and a feeling of gratefulness in Life.
Here's an example of what I mean. After I graduated from college, I worked as a volunteer, running an orphanage between 1984 and 1986 for a charity organization funded by the wives of diplomats.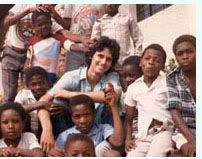 During the day, when the kids would go to school, I worked with a retired dentist in his sixties. He taught me how to pull teeth and we ran mobile clinics in the slums around Port au Prince, sometimes in Mother Theresa's homes for the dying. He had moved right into one of the shanties in the most horrid slum imaginable. He didn't have electricity. He didn't have any running water. Outside his place were open sewers. He had no privacy whatsoever. He served not just as a dentist, but as a medical doctor for all types of ailments.
His living conditions were unbearable. Yet he would walk around and exclaim how beautiful everything was. He would tell me that he was living in heaven. Here we were, in the worst slum in the western hemisphere, among unimaginable poverty and suffering, yet he was full of love and happiness. He had a childlike perspective on his day-to-day existence, yet clearly, he was not in denial of what was around him.
What a reconciliation of irreconcilables! I spent as much time with him as I could. He lived in a shanty shack in the most wretched slum surrounding Port au Prince in Haiti, feeling as if he was in the Kingdom of Heaven. I was struggling in despair, trying to understand the poverty and suffering. Whose fantasy was right?
How do I bring that perspective of essence into my business?
I would argue that to be rooted in ultimate power and still be in business, requires an understanding of the circle as the best business practice, and also, running your company based on a Bank of Generosity rather than like the mythological King Minos.
To begin to understand how to get to ultimate power and integrate it with manifest power, imagine that you had only this day left to live, right now. Chances are, you would review the meaning of what has passed over the years.
I started doing this when I was in my early twenties, which was about twenty-five years ago. I was studying meditation under the guidance of a Sufi master. My mentor at the time encouraged me to see my life ending. View my own funeral. Watch the passage of time, as people moved on. A week. A month. Six months. A year. Five years. What would people think of me? What would my ultimate contribution to life be as I became just a distant memory?
This question has become a way of orientation, a method of contemplation, an inner directional pole. Great questions, like stories or myths, need to be lived with, over time. Time is needed to make the answers real; integrated into life; concrete in ones actions.
The question becomes a way of orientation in the river of life. The journey home is full of metaphor and meaning. But to understand, it really helps to know what story you are in. I have found that leaning into the mystery of it, involves stepping in and out of this power, sometimes like a fool.
When I consider the meaning of my life in context to my death, I get the same general sense of what is important. This becomes an orientation.
What does this have to do with business? To me, it has everything to do with business, because I am most interested in rooting myself in ultimate power.
What may we learn from this?
—————————————————————
Special thanks go to Marek Sutherland, who provides technical support and hopefully will also do some writing for this blog.
———————————————————————-
Marc Choyt is President of Reflective Images, www.celticjewelry.com, an award winning designer jewelry company that exemplifies fair trade, ecological, socially responsible business. Marc authors www.fairjewelry.org a movement website for consumers and jewelers supporting green, fair trade, socially responsible business practices in the jewelry industry. He also originated The Circle Manifesto, www.circlemanifesto.com, a business model based on indigenous wisdom traditions.
Marc Choyt is also the author of The Circle Manifesto© 2007 - a work in progress. Sign up here if you would like to get advanced notice of its publication and receive a signed copy of the book.